Background
It started with an Idea!
Michelle Messina was the inventor of a pocket onto a popcorn bag
After years of reseach and development it expaned to any food container with an auxilary pocket and a Canadian Patent was issued
Kevin O'Leary on The Dragon's Den wanted to buy this Patent and company
In this blind interview, one season one, not knowing the show nor O'Leary, Michelle Messina turns down a 800,000 dollar a year royalty deal
based on him not disclosing his name and without a solid guarantee that he would manufacture
Kevin shocked by the her declining he waved $25,000 cash in her face upfront.
Keeping her intital investment cost in mind and truly wanting to serve the public with better hygeine she turned down the deal
in fear he would flip the deal and would only gain the $25,000 deal upfront.
In 2010 A Good Dragon was born; Brett Wilson
When Michelle's mother informed her that Brett Wilson will be hosting the Polo for Heart & Stroke
Michelle contacted the publisist, who is a friend of hers, and offered to sponsor the event with Kango popcorn bags with pocket
holding: a wetnap, toothpick, napking, discount coupon from Kernels and her business card.
Kernerls Sponsored her for her innovation and charitable deed.
Visit Kango Inc to learn more and see pics
In 2015
Kango Naturals line of beauty products were created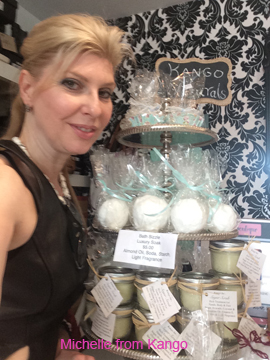 to continue their family's beauty business established in Toronto since 1950
To a young couple who met in Toronto, from Europe.
Their talented and spiritual daugher, Michelle Messina, leads and creates all products by hand with a European flair who is grounded to nature.
During the launch of Kango Naturals, in Septemeber of 2015
Michelle Messina was asked for hire to prepare luxury soaps for an exclusive TIFF event
It was that moment that she realized when she was prepared to let go of the Patent dream & go into a different direction
that her vision came true
Michelle Messina, jumped back into the opportunity she had dreampt for years and asked if they would
be interested in an exclusive opportunity by offering pockets on the popcorn bags.
Cineplex Odeon approved the addition of her Patented product to be
added to their bags for this event:
The Opening of Toronto International Film Festival with the movie of Forsaken with a exclusive question period with Kieffer Sutherland.
To this rebirthing Kango Inc. with it's original idea.
To her good fortune she was also hired exclusively film the celebrity actor Kieffer Sutherland with there company Pocket Pictures
whereby she has been a successful film and video director for 13 years.
Michelle Messina, the inventor of a pocket on a paperbag/food container was introduced at
Cineplex Odeon Varity VIP Theatre at the end of the screening of: "Forsaken"
also starring Donald Sutherland
and so so called World Premiere of her invention too!
Michelle presented the popcorn bag to Kieffer who said:
"I take that back, the theatre experince has improved." Kieffer Sutherland
Watch the video to see the reference when he early said 'the theatre experience has not changed in 50 years"
Currently hand assembled with options to manufacture
At CHFA Michelle met Sam Graci who fell in love with her products and invited her to a symposium
it was there he surprised her and introduced her products to a packed hall - video.
Sam Graci endorces Kango Naturals soap and Michelle's skills as a director and marketer.
Not knowing this all would happen she had generously brought a tray of her original
German Kugel rolled balls made of natural products as a warm gesture and
Kugel.ca was born
Michelle humbly said to Graci, I am not ready for success in volumne, I am used
to handmade taylor item that are labour intensive. He replied:
"Michelle, You are Medicine for the Planet Earth and
all that composes it like a lovely symphony orchestra
that synergeticly gives off it's harmony and calming tranquility.
You unique rare individual, in time you will get on-line and share your gifts with the world."
On Septemeber 26 that is what she did, with that loving push and recognition
built Kango Naturals website effective
September 27, 2015
For the welcome of the Red Super Moon:
The sun,
the moon
and
the planet Earth
haven't aligned perfectly since 1982,
and won't again until 2033,
making tonight's total lunar eclipse of a supermoon a particularly special occasion.
"I thank the universe for my blessings and great forutne,
and wish to continue my success with my bags with pocket and
natural beauty product.
I shall do both.
So be it!"
Michelle Messina, Inventor, President and creator of handmade beauty products for Kango Inc & Kango Naturals. 7:37pm Sept. 27, 2015